MetalMizer Vertical Bandsaws
High-Quality and Versatile Vertical Bandsaws that Stand Out
The unique design of the MetalMizer drive system gives the MetalMizer the same or greater cutting capacity as other saws in its class. This is accomplished by mounting the motor drive system directly on the cutting head, eliminating the need for a spline drive. This reliable system allows more flexible machine placement and saves floor space without any loss of capacity. Feed forces are infinitely adjustable from the front control panel from 0 to 300 pounds of force. Travel adjusters allow any preset length of cut up to the 18" horizontal capacity of the machine.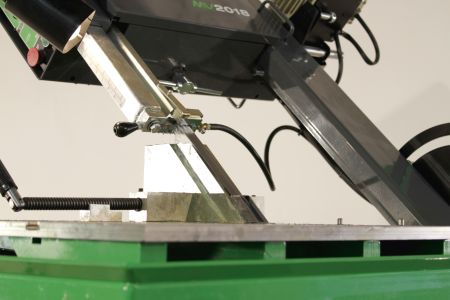 The MetalMizer MV2018 metal cutting bandsaw is engineered to save space without compromising production. The MV2018 is uniquely designed to offer the same or greater cutting capacity of other saws in its class with over 30 percent less machine depth.
Was $15,995.00 Now $14,995.00
Shop Now
The MetalMizer MV2300 Metal Cutting Bandsaw features adjustable 0 to 3 degree forward tilt, powered 0 to 45 degree tilt from either side of vertical , and auto speed adjustment with presets for making a variety of cuts.
Was $19,995.00 Now $18,995.00
Shop Now